Have you ever wondered how those fancy cabinets or beds with hidden TVs operate? TV lift mechanisms are the answer! These versatile devices hide TVs from view when not in use, saving space and providing a cleaner aesthetic.
If you plan to incorporate a TV lift mechanism in your home, you may wonder how they work. It's essential to understand how these mechanisms work and their practical applications to make an informed decision about which one to choose.
This guide will provide an in-depth look at TV lift mechanisms, how they work, and their various applications. Whether you're a homeowner, interior designer, or builder, we will equip you with the knowledge needed to incorporate a TV lift mechanism into your space. With our guide, you'll be able to choose the best option for your project and create a functional and stylish space.
Electric TV Lift Mechanisms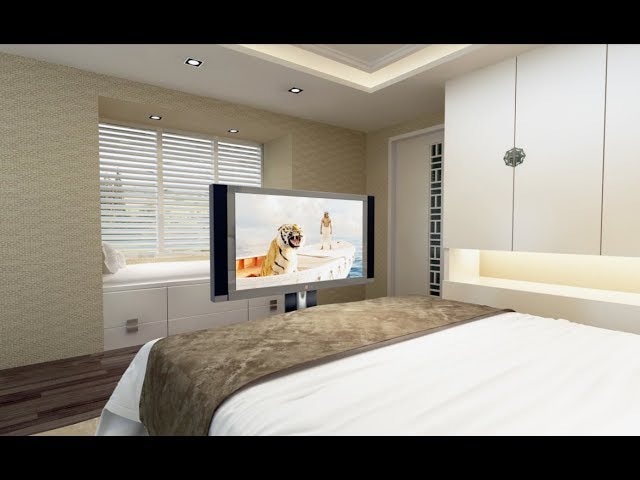 Electric TV lifts are a popular choice for those who love the convenience of a motorized lift mechanism. These lifts operate using a motorized system that raises and lowers the television. They are therefore popular for their several benefits such as:
Easy to operate: You control the lift mechanism with a remote or a switch. It all depends on your preference.
String and durable: They also support larger and heavier TVs. They are, therefore, an ideal choice for home theater setups.
Saves space: The capacity of electric TV lifts to save space is another one of its most important advantages. It aids in clearing up floor space and giving your area a fresh and tidy appearance.
Adjustable: The height and angle of the TV are adjustable. At any time, you may change the location of your TV to suit your taste.
Manual TV Lift Mechanisms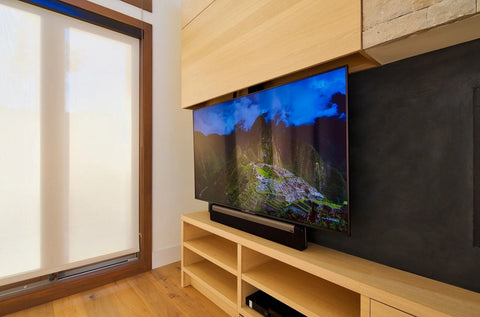 Manual TV lifts may be a more cost-effective alternative. These elevators function without power and are often less costly than electric lifts. They take more work to raise and lower the TV. Hence, they are less convenient to use than electric lifts. They work best with smaller TVs or for people on a tight budget.
The Best of Both Worlds – Hybrid TV Lift Mechanisms
You get the advantages of both electric and manual lifts in hybrid TV lifts. These lifts allow for both manual and motorized operation. In general, hybrid lifts are less costly than electric lifts making them an excellent choice for individuals on a budget who still want the convenience of a motorized lift.
Factors to Take into Account When Choosing a TV Lift Mechanism
Selecting the proper TV lift mechanism is crucial since it greatly affects your watching experience. Here are some things to think about:
1. Your TV's dimensions and weight
There are several types of TV lifts with some unable to sustain bigger or larger TVs. The first thing you should do is measure your TV dimension and weight to ensure it fits. Also, verify the lift mechanism's weight capacity before buying it as each has their weight limits.
2. Space Available for Lift
Your available space for the lift is a crucial additional consideration. You need more area for certain lift systems than for others. As a result, you must ensure there is adequate space for the lift to function correctly. Let's say you want to put the lift mechanism in a small bedroom, the best solution will be a foot-of-bed lift instead of a ceiling lift.
3. Cost Factors
Of course, you must always factor in cost when selecting a TV lift mechanism. Manual elevators are often less costly than electric ones. Hybrid lifts occupy a middle ground.
However, bear in mind that there are other costs to take into account in addition to the price of the lift mechanism. The price of installation is one of them. Other costs include the additional parts or extras such as mounting hardware or remote controls.
4. Style and Decor Integration
In addition to size and budget, it's essential to consider your overall decor. TV lifts come in a variety of styles that range from modern and minimalist to ornate and traditional. So when choosing a lift mechanism, factor in the existing decor in your room. Then select a style that complements it.
Applications of TV Lift Mechanisms
TV lift mechanisms have become increasingly popular due to their versatility and convenience. They are useful in a variety of settings, from homes to offices to outdoor spaces making them a practical solution for many different situations.
Home Use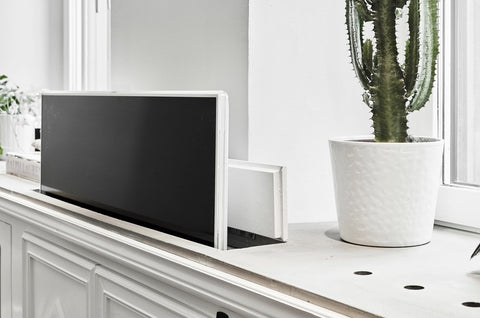 In homes, TV lifts are often found in living rooms, family rooms, or bedrooms. They help to hide the TV when it's not in use. It does not only help to preserve the aesthetics of the room. It also creates a more relaxing and comfortable atmosphere.
It is possible to even install some TV lift mechanisms in the footboard of a bed. Therefore, it provides you with a unique and luxurious viewing experience.
Office Use
In offices, TV lifts help to create a more flexible workspace. Hence, televisions easily become a part of presentations or video conferencing. It also allows you to use them in conference rooms or boardrooms for a sleek and professional appearance. So, by concealing the TV when not in use, the space becomes useful for other purposes.
Outdoor Spaces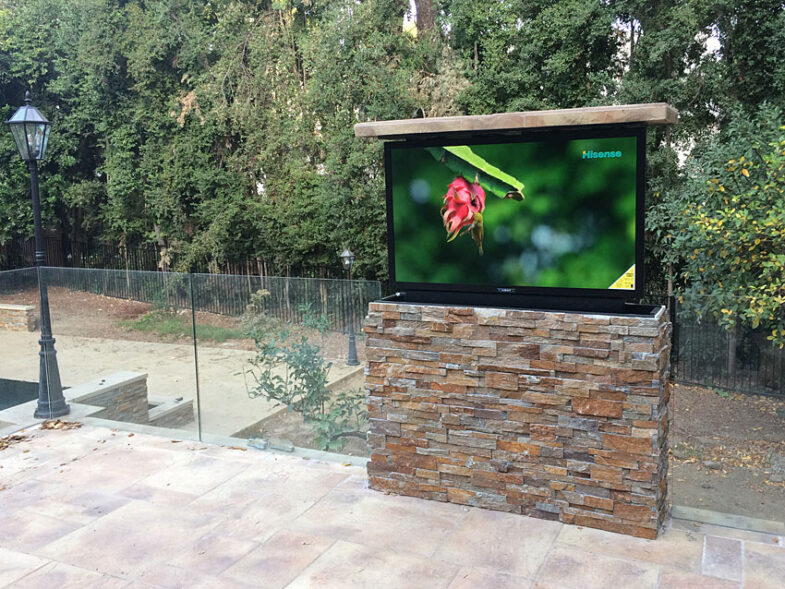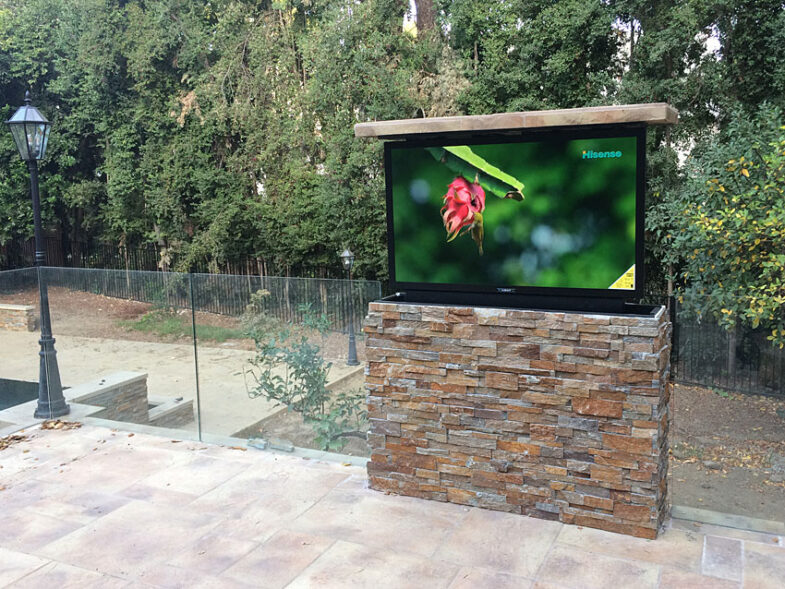 Outdoor TV lifts help to protect televisions from damage while also providing a great viewing experience. These lifts are common in outdoor entertainment areas such as patios, decks, and pool areas. With an outdoor TV lift, you get to enjoy your favorite shows or sports events.
Conclusion
TV lift mechanisms are a game-changer when it comes to home entertainment. They allow you to enjoy your favorite shows and movies without sacrificing valuable living space or compromising on style. Whether you're looking to create a seamless entertainment experience or simply want to maximize your living space, TV lifts offer an elegant and practical solution.
In the end, choosing the right TV lift mechanism is about finding a balance. More importantly, take the time to consider your needs and preferences. Always, choose a lift mechanism that enhances your viewing experience and seamlessly integrates into your home or office. So why not take the leap and transform your home entertainment experience today?
💚💙💜 Do you know the colorful gadgets below are the most popular gifts on Amazon? The easiest way to brighten anyone's day is by adding some bright colors to the environment. Inspired? Click the images below to explore!❤️💙💜