If you have been feeling like changing something inside your home, but are not sure where to start, and your living room is all white, we suggest you try the walls first. Refresh your walls and space, but also revive them with a few great tips that we bring you.
PHOTO COLLAGE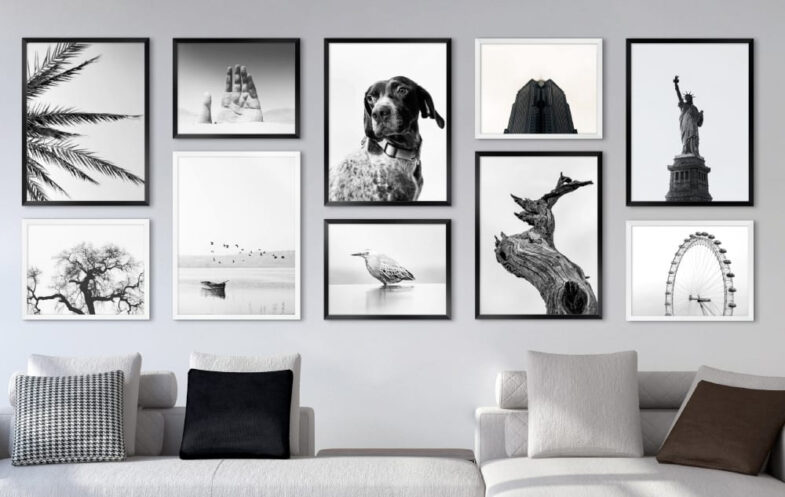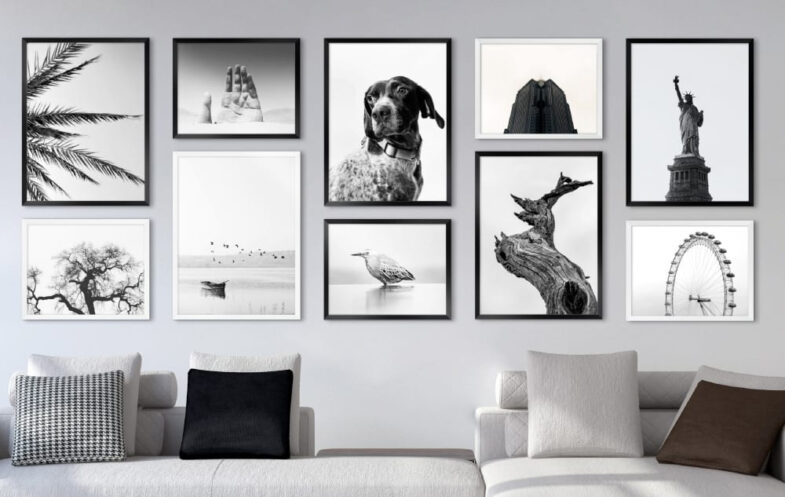 A collage of framed pictures is a great way to cover plain white walls. Choose simple photo frames and put photos in them that represent a meaningful whole (that tell a story). Make sure that the photos have identical shades so that they do not stand out from each other, but represent a unique whole. If you choose abstract photos, make sure that they are not too detailed and have a maximum of 4 accented colors. Let the simplicity of details and colors express your elegant side and your good taste.
Here are a couple of tips about what to keep in mind when placing photos on the wall
If you are placing several pictures next to each other on a smaller wall surface (e.g. above the sofa), use your palm (fingers must be pressed together) to mark the distance between the pictures.
If you have several pictures of different dimensions, it is better to group them together on, for example, one part of the wall, than to "stretch" them all over the walls of the room. Images do not always have to be grouped symmetrically!
Take care not to place pictures too high, which is especially true for pictures above the sofa.
WALLPAPER
If you are not a fan of photos and decorative details on the walls, the simplest way to liven them up is to cover them with wallpaper. Choose one wall in the room (so that the wallpaper does not suffocate and visually reduces the space) and stick wallpaper on it as desired. Today, you have the possibility to realize and print almost anything you imagine for your wall, but again, take care that the colors and the style itself do not deviate too much from the rest of the room. We suggest you choose some plant ornaments or simple geometric figures that will fit almost everything.
MACRAME WALL DECORATION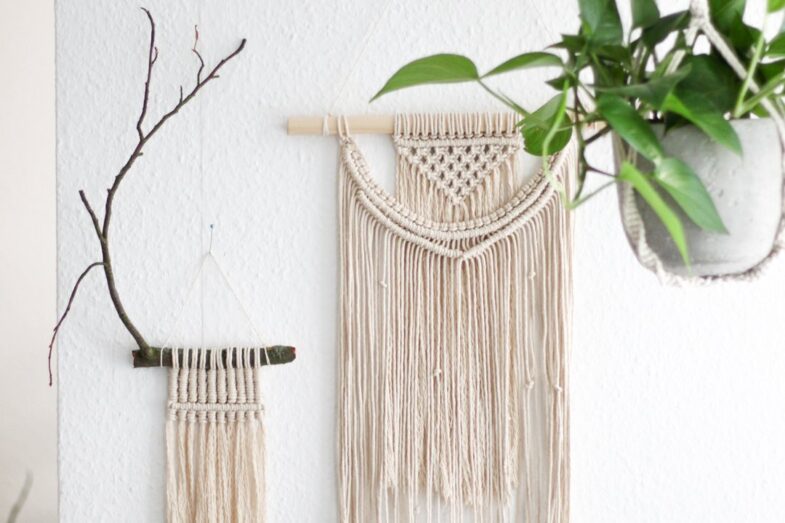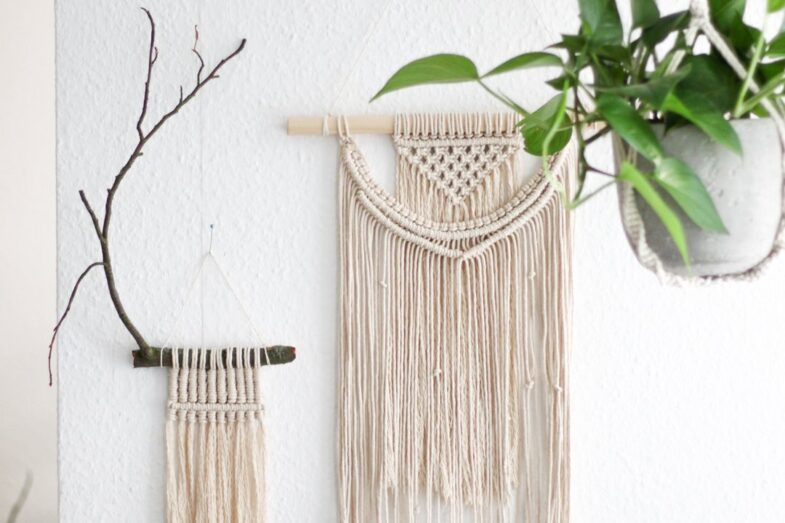 Macrame is the name for handicrafts created by the technique of tying knots, usually from rope, wool, cotton or leather, and hemp. With this technique, you can make many decorative items, as well as jewelry. Macrame decoration for the wall is a very elegant decoration that is attached to a long wooden stick and as such hangs like old-fashioned embroideries. Gentle white and brown shades will further emphasize the elegance of the light walls and give them the so-called boho look.
WOODEN SHELVES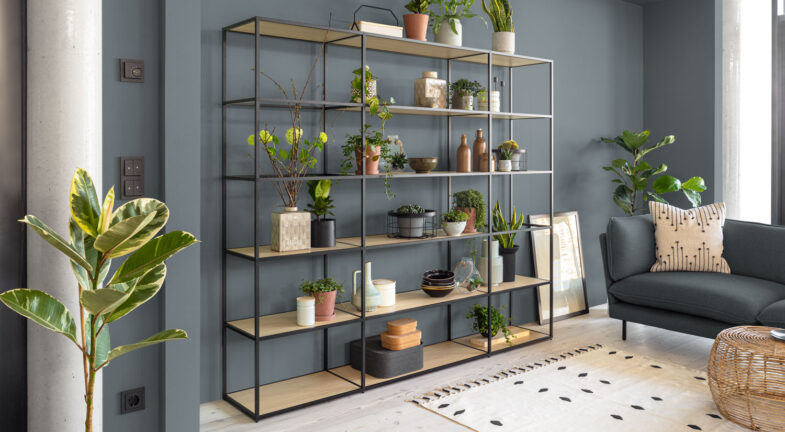 Unusual wooden shelves of different shapes and sizes are the perfect choice for your wall. You will be able to place all those small decorative objects on them that you constantly move and never know where to put them, and it will also be a great place to put your beautiful indoor flowers, as well as your favorite books.
For those who rent an apartment or office space, we suggest installing lighter shelves, on which you can place decorative plants or framed photos.
POSTERS
Framed or unframed posters can be a great way to add some life to your living room. Not to mention that you have the ability to create, and order large photo prints for walls according to your desire via posterprintshop.com. Whatever you have in mind, be it a family photo, or some shot you took on your vacation that carries nice memories, it can be done in a matter of a couple of clicks. You also dictate the size. Therefore, posters are a great way to make white walls in your living area less boring.
Finally, add some stripes to the walls or geometry shapes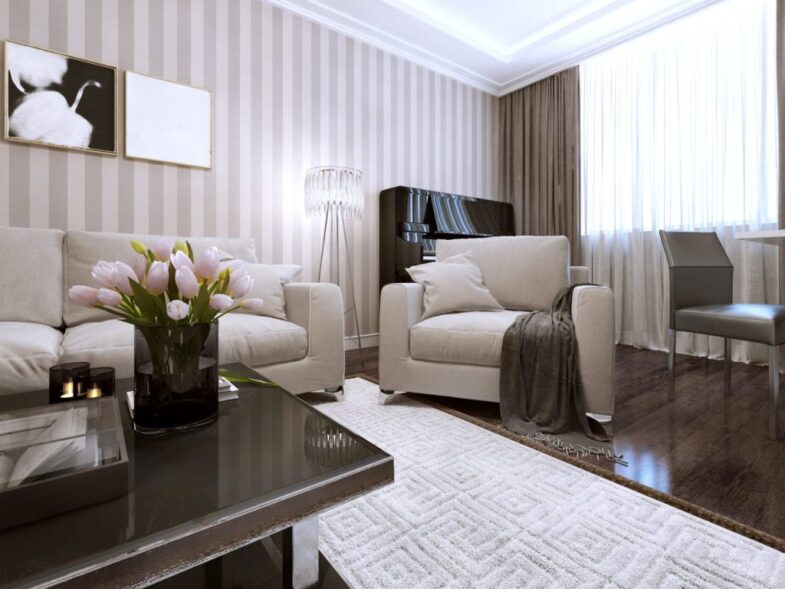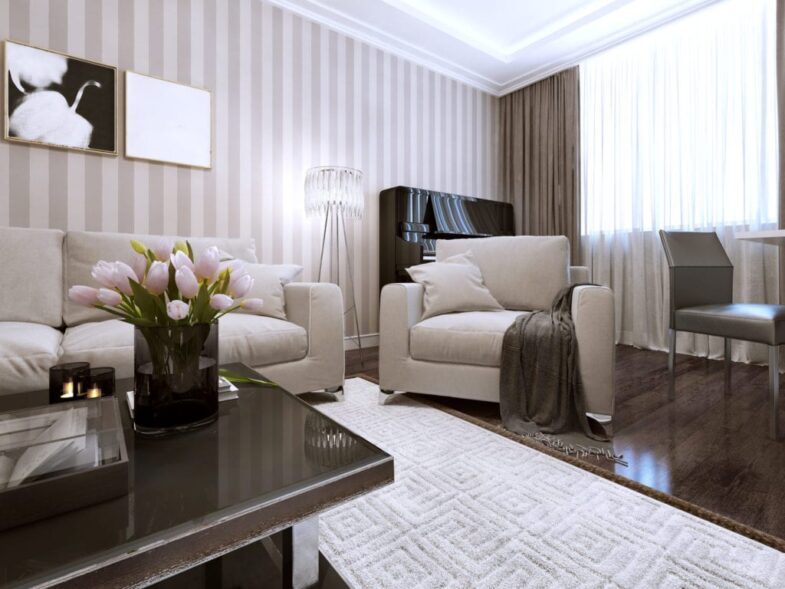 Painting stripes on the wall is a phenomenal decorative technique that will refresh any room and give it a complete transformation of its appearance. Stripes are technically easy to make, but they often require courage, so it is important to find the design that will best suit the space it is intended for. Vertical stripes on the wall will create a feeling of height, and horizontal stripes will give it the illusion of spaciousness. The width of the lines affects the scope of work and the final effect that your new wall will have. Combine different shades of the same color, and you will get an amazing effect. You can choose to do this on one part of the wall, or turn the entire one in stripes.
The geometric print reached its peak approximately 4 years ago. We could see him everywhere, from television shows and series to popular magazines. When done right, the geometric look is a great way to give your rooms a modern and incredibly interesting look. If you want to visually refresh your room, you don't need to be a genius to figure out how to do it. Patterns are the answer you are looking for, especially geometric ones that will meet all the basic requirements of the interior, and at the same time look incredibly modern and refreshing.
What can help you the most in designing a unique look for your space is actually creativity and your personal style. You can find a handful of ideas on the Internet and in interior design magazines, and if you are confused just consult a specialist and see what kind of personalized solution they may have for you.
Many people are tempted to paint their walls in screaming colors, but the reality is that white walls are perfect when you like to decorate them. Although they may look dull, the decorations you choose to put on them make a lot more sense. They become way more visible, and effective. Generally, when painting, pay attention to the color of your walls, and choose lighter shades that will visually open and brighten the space and provide you with a handful of decorating options.
💚💙💜 Do you know the colorful gadgets below are the most popular gifts on Amazon? The easiest way to brighten anyone's day is by adding some bright colors to the environment. Inspired? Click the images below to explore!❤️💙💜